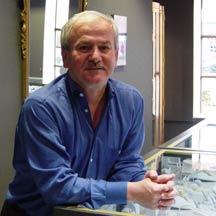 Reggie Akdogan is a huge part of what makes The Precious Gem such a special store. Reggie is our Master Goldsmith, Designer, and Jeweler. He is a seasoned bench jeweler and a true artist.

Reggie was trained by his uncle in Istanbul. There he had a stall in the Grand Bizarre. His skills developed from hard work and a natural gift for design. This gift has earned him many awards in jewelry design competitions. The happiness of many customers who travel to Williamsburg just to see his new work is also evidence of his love for creating new and unique pieces.

Reggie travels all over the world to obtain only the finest materials to design and craft his jewelry. He often travels to Sri Lanka, Thailand, Burma, and Madagascar to search for his precious gems. On his journeys he seeks out only the most stunning and collectable stones to use in his designs and to sell in the store.

Recently, Reggie used two such remarkable stones to create a stunning necklace that is so breathtaking each person who passes it stops to gaze. This piece is made of 18k yellow gold and features two brilliant stones: a 7.65 carat deep pink tourmaline and a 3.71 carat aquamarine. The aquamarine is the color of a brilliant blue sky, and captures the essence of a tranquil summerís day.

Reggie is constantly working on new pieces. His creations make The Precious Gem a fun and exciting shop to explore for the gem lover in all of us. Every time you visit, you will certainly see something new.